Wow Sports XO Extreme One To Three Person Towable Tube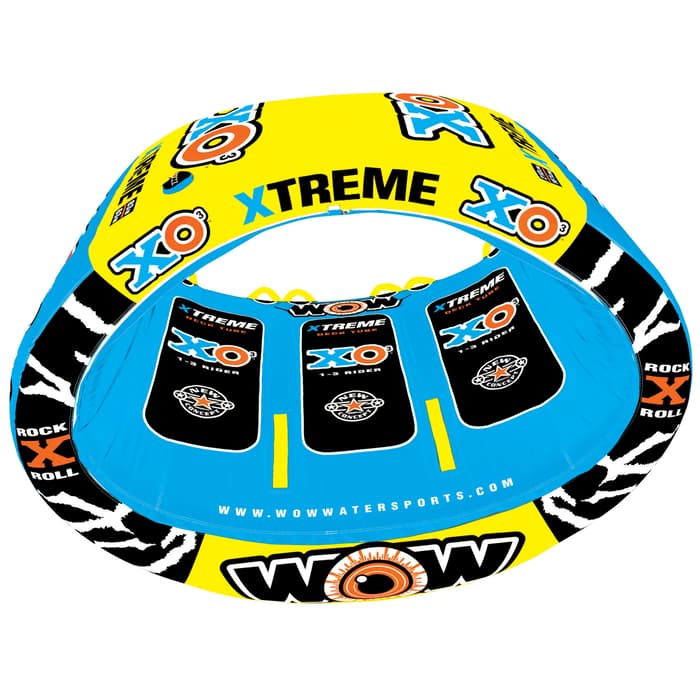 Product Details
The Wow Sports XO Extreme One To Three Person Towable Tube is one-of-a-kind, oval-shaped towable with a rocker-ed bottom to provide the most excitement ever on the water. It's patented oval shape design minimizes the amount of surface area touching the water that provides for a fast ride and less drag as it slips and slides across the wake with ease. This new concept from WOW has a high profile and is highly visible in the water, so expect to get a lot of attention while you are zooming back and forth behind the boat. It also makes for a great lounger, so after your thrilling ride, sit back, relax, and float free in your favorite body of water on the Wow Sports XO Extreme One To Three Person Towable Tube.
---
Features
TUFF SHELL Full Nylon Cover with Zipper Heavy-Duty PVC Bladder Double webbing foam handles with knuckle guards 11 INCH 4K EZ TOW CONNECTOR INCLUDED EVA foam pads Unique patented oval design allows for less drag and a faster ride High profile and high visibility in the water Zippered valve covers Speed valve for fast inflation and deflation
Tech Specs
Number of Riders: 1-3 Max Maximum Capacity: 510 lbs. (231 kg.) Inflated Dimensions: 84 in. x 70 in. x 64 in.
---