Wow Sports Go-Bot 2 Person Tow Tube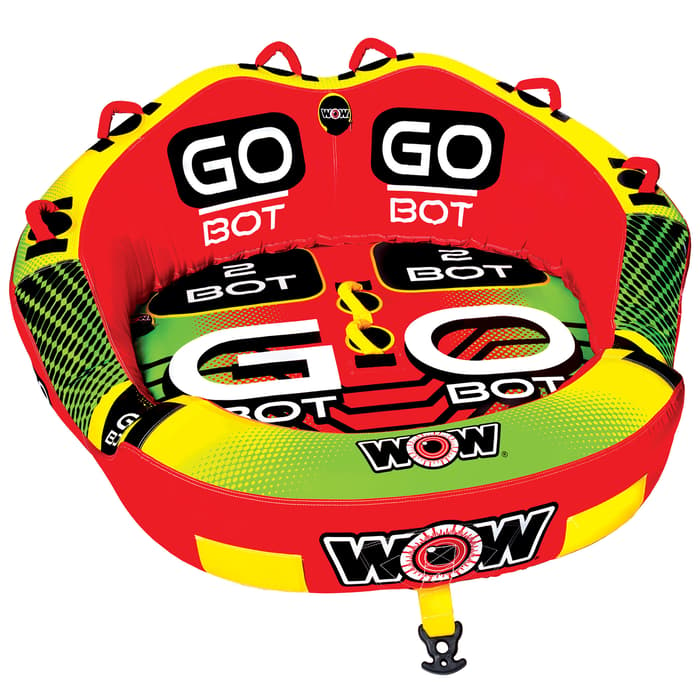 Product Details
The Wow Sports Go-Bot Two Person Tow Tube is designed with family fun in mind, the Go Bot makes a great towable for the youngest to the oldest in the family. Ride in the seated position from the front tow point or connect the rope to the back-tow point and ride chariot style. The deep cockpit seating with high backrest makes the riders feel more secure while the drop speed bottom glides smoothly over the water creating less drag on the boat and therefore better gas mileage. A new slotted EZ entry system makes it easier than ever to get back on the towable if you do happen to get thrown out of it. The Wow Sports Go-Bot Two Person Tow Tube will be loved by everyone in the family; from those that like a nice and easy ride to those that want something more extreme.
---
Features
Slotted EZ Entry System Cockpit Seating Secure Ride Reinforced Front and Back Tow Points 2 Rides In 1 Towable Deep Cockpit Construction High Backrest Riser for Secure and Extreme Riding Drop Speed Bottom for EZ Fuel Efficient Towing with Less Drag on the Boat Full Nylon Cover with Heavy-Duty Zippers Heavy-Duty PVC Bladders Double Webbing Foam Handles with Knuckle Guards EVA Foam Pads for Comfortable Seating High Profile and High Visibility on the Water Zippered Padded Valve Covers Heavy-Duty Molded EZ Tow Connector Included for Quick Connecting to the Tow Rope Backed by a 1 -Year Warranty Speed Valves for Fast Inflation and Deflation
Tech Specs
Number of Riders: 1 - 2 Max Maximum Capacity: 340 lbs. (145 kg.) Inflated Dimensions: 68 in. x 66 in.
---